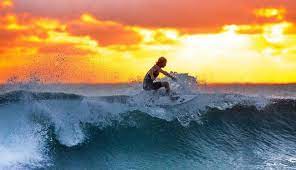 SURF WEEKEND – 2 DAYS & 2 NIGHTS – $333
INCLUSIONS:
SURF: 2 Day Progressive Surf Course for Absolute Beginners
GEAR: All Surfing Equipment – Rip Curl Wetsuits & Surfboards
STAY: 2 Nights in Modern Beachside Accommodation
MEALS: All Meals Provided
TRAVEL: Transport from Sydney included or Self drive
PHOTOS and VIDEOS: Surfing Photography and Video during 2day course
DISCOUNTS : Rip Curl Vouchers
$333 – GO TO THE ACTIVITIES DESK ON LEVEL 7 FOR INFORMATION.
DETAILS:
Surfing: Our 2 day progressive surf course is designed for absolute beginners. You can expect to
stand up, ride waves & acquire the essential skills and knowledge to continue surfing.
Accommodation: 2 nights stay in our modern beachside cabins. All linen provided. Enjoy clean
onsite facilities, a relaxing outdoor covered entertainment area, hammocks, DVD movies, hot
showers, swimming pool, internet, laundry & café. Location: Seven Mile Beach is a pictur-esque
national park beach. It's an ideal location for beginner surfers with its low energy waves and
scenic surroundings. Only 2 hours total travel time from Sydney, you can escape the city &
experience the buzz of catching a wave amongst an uncrowded, pristine natural environment.
Meals: 2 x breakfasts, 2 x lunches, 1 x dinner. Meals are cooked on-site with fresh local produce.
We serve buffet style to cater for hungry surfers. Inform us of special dietary requirements.
Staffing: All of our surfing instructors are friendly, fully trained & qualified. They hold a Level 1 Surf
Coaching Accreditation, Bronze Medallion Life Saving & Senior 1st Aid Certificates.
Contact:
info@surfcamp.com.au or call us on 1800 888 732