Ukulele Magic: Part 1 for Beginners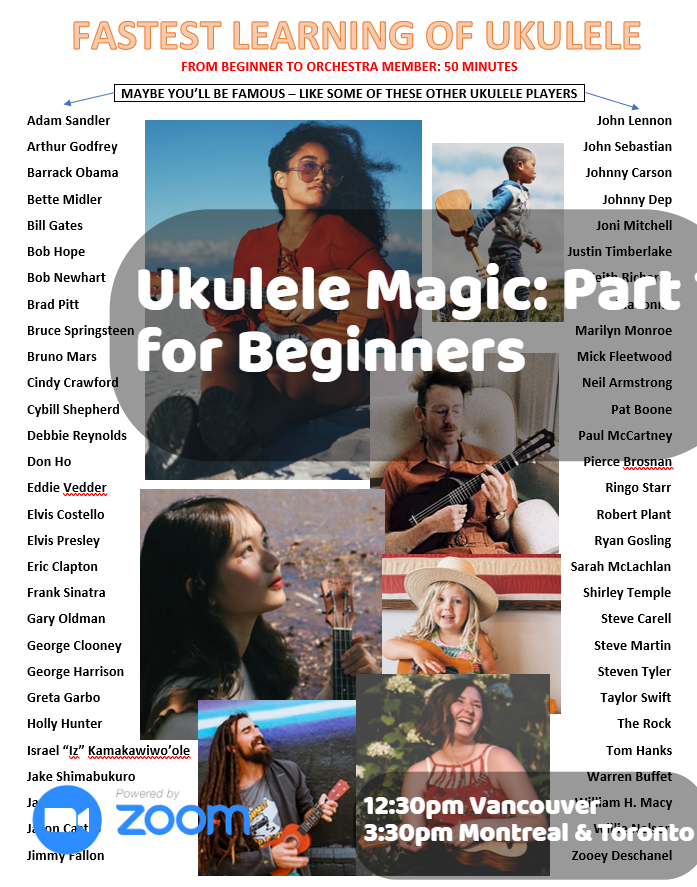 Event Location:
12:30pm Vancouver or 3:30pm Montreal & Toronto , Zoom Event
From Beginner to Orchestra Member in 50 minutes! Revolutionary approach for accelerated learning. Nothing to memorize. Want to go further? There's a number system that accelerates learning using psychology! Part 2. Wild stuff! You don't have a Uke? Check out your local Long & McQuade Music Store. There's a store near you! There may be other stores that have great ukes at good prices – or even Amazon.ca. Buy an Ukulele for over $50 and if you don't like playing the 'uke' you can return it within 30 days (at L&M; not sure of other stores and Amazon.ca). Check their policy. But plan to LOVE the Ukulele! It's PERFECT for hanging out at home when you can't go out! Great for relaxing on the weekends. This is a great start.